With decades of experience, Finncont offers premium quality stainless steel IBC solutions for the handling of liquids and powders that promote circular economy. The IBC packages are UN type approved for the transport of dangerous goods, and the process and storage containers are always tailored to customer requirements. Their capacity ranges from 300 to 3,000 liters, but an up to 15,000 liter capacity solution can be offered according to customer needs. Our range of products includes IBC tanks with heating, cooling and insulation, and we also provide mixers and other IBC related products. IBC totes can be fitted with commercially available and custom-made components.
We are IBC specialists in manufacturing technology, authority requirements (UN, ATEX, CE) and food regulations (FDA, GMP). Engineers at the Finncont Design Studio work continuously with customer projects and develop new technologies for IBCs, such as the eFinncont smart tool for the tracking and management of IBC fleet.
IBC containers made from stainless steel are used in a wide range of demanding applications in the food and chemical industry. These include solvent-based paint and chemicals transport, spirits and soft drinks manufacturing as well as melting of chocolate. IBC containers are also used in cosmetics and pharmaceutical manufacturing, as well as many other areas that involve handling of bulk liquids and powders.
Flexmelter is a premier chocolate container for melting, mixing and storage. Flexmelter enables flexible production with small or special batches without contamination or quality concerns. Flexmelter handles both solid blocks of chocolate as well as liquid chocolate with ease due to optimized mixing technology combined with gentle water jacket heating. The unit is controlled by a touch screen.
Finncont® SC process and storage container
Finncont® SC process and storage containers are intended for the storing and dispensing of chemicals and liquid food products. The dimensions and features of the containers are tailored to the customer's facilities and processes.
An IBC package with an integrated containment bund. The PCPE Process Container is designed for the safe storage and dispensing of chemicals. The container can be filled from a top-stacked IBC or directly from a tanker truck. Containment bund 110%.
Finncont® Liquid handling system
For the safe storage and dispensing of chemicals. Optimize space usage in your factory with this stackable system. These containment bunds with optimal volumes guarantee careful leak control in the event of faults. The process and dosage pump can be installed into the system structure.
PF plastic container, 800-1000 l
Finncont® PF plastic containers are reliable and consistent Finnish premium products. PF containers have been designed for the safe transport and storage of chemicals. They are suitable for acids, alkalis, corrosive liquids and food products. When used for storage purposes, a container mixer with an opening blade can be attached to the 2" coupling on top.
CF, MC and CS containers for liquids
CF and MC liquid containers are a good choice if you require little customization. The CS liquid container can be tailored to your needs. The containers are all UN type approved IBC packages for the chemical industry.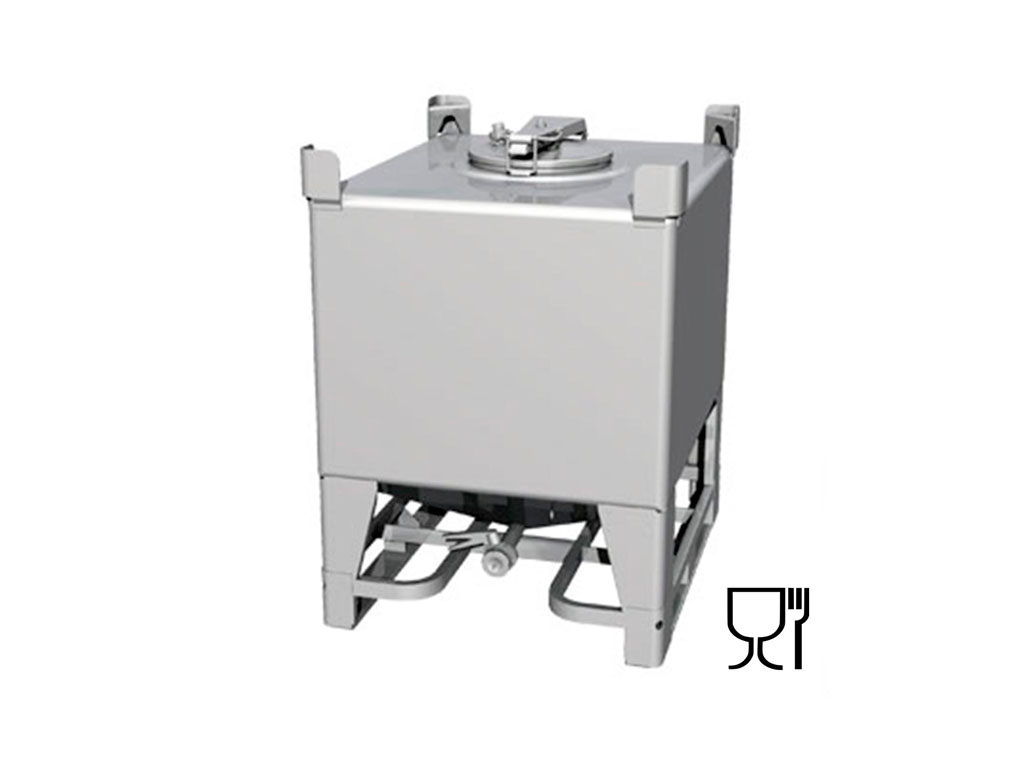 Finncont® FF food container 500-1200 l
The FF Food Container is designed for the food industry, and it is hygienic and easy to clean. The container enables the efficient processing of raw materials. The FF Food Container is made either from stainless or acid-proof steel, and its features, such as material and equipment, can be fully tailored according to customer needs.
Finncont® Silo containers
For powders and dry and granular materials used in the food and chemical industry
Can be tailored to fit the customer's processes according to their wishes and requirements
Material options are stainless steel or acid-proof steel
500-3,000 l
Easy to clean and empty
The email addresses are in the format firstname.lastname@finncont.com